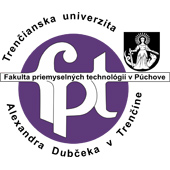 Address:
I.Krasku 491/30
020 01 Púchov
Representative:
Prof. RNDr. Marianna Pajtášová, PhD.
Tel: +421 42 2851819
e-mail: pajtasova@fpt.tnuni.sk
web:
www.tnuni.sk
Info:
Faculty of Industrial Technologies and Environment Alexander Dubcek University of Trencin education of experts in the fields of technically significant materials - silicate materials, polymer materials, textiles, metals and composites, combined with modeling and simulation, environmental engineering, production ecology, recycling technologies and industrial design. The Faculty is particularly unique in its direct connection to industrial practice and the development of close cooperation with industrial partners has always been a priority. In accordance with current practice requirements, the faculty prepares study programs at all three levels of university degrees. For students as well as for industrial partners, there are modern laboratories and equipment.