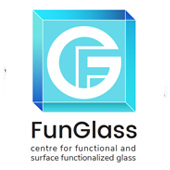 Address:
Trenčianska univerzita Alexandra Dubčeka
Študentská 2
911 50 Trenčín
Representative:
Prof. Ing. Dušan Galusek, DrSc
Tel: 032 740 0590
Fax: 032 740 0102
e-mail: dusan.galusek@tnuni.sk
web:
www.tnuni.sk
Info:
a. Bioglasses for regenerative medicine,
b. New glasses with special functional, especially optical, electric, magnetic, catalytic, and sorption properties,
c. Surface treatment of commercial glasses by coating, or modification of their surfaces with the aim of gaining new functionalities,
d. Processing of waste and its utilisation as raw materials for production of glasses with high added value,
e. Investigation of relations between composition, structure, and properties of oxide glasses.